The Simon Cowell of the cow world: Looking for the 'ox' factor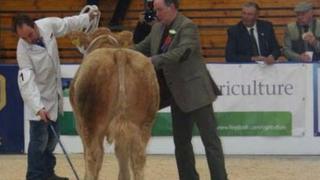 He demands a great performance, an exciting ear, a good pair of legs and, above all, likes a mesmerising mover. And there's not a pair of high-waisted trousers in sight!
Scottish judge Archie MacGregor takes no prisoners. He's the cow show world's answer to Simon Cowell.
He arrived at the King's Hall in Belfast for the annual Northern Ireland Commercial Cattle Exhibitors' Show, the 10th year of the competition.
And although it was his son, John, taking centre stage in the judging ring, Archie was keeping a close eye on the talent.
Daring to look the king of cattle in the eye, I asked him what he looked for in a prime bit of livestock.
"Today, we're judging fat, stock cattle and we're really looking for their meat quality, very good carcasses. But to get to the top of the show world they've got to have presence, be good on their legs and have a bit of character as well," he said.
"It's very true (that I'm looking for the X-factor). There are a lot of fantastic animals here, but the one that will win the day will have lovely ears and good character.
"It's a lot like a model - a girl that can go out and show herself. It's the same in the cattle world. The animal has to know it's a good one and think it's a good one and go out with its head up and have a bright eye and be good to look at."
It seemed the word had got around the arena that Archie was casting a very critical eye over the offerings, as I caught sight of Ryan Law from Enniskillen lightly dusting his Belgian Blue bullock - with hairspray.
"Well, this is the pinnacle of the commercial season and it's the biggest commercial show in the north," he said.
Effort
"There are nearly 100 cattle here today and it's really the one you aim for before you move on to other shows at the end of the year.
"A lot of boys put a lot of effort into getting their cattle ready. Most exhibitors spend at least two weeks preparing the cattle before the show, clipping their hair, washing them daily, getting the hair right and blow drying it, just so the cattle look really well."
As I stumbled my way through a haze of hairspray, I bumped into an equally passionate and triumphant Johnny Neill from Crossgar, County Down.
He was showing bullocks and heifers. So just why was this show so compelling?
"It's an interest, a hobby. Some people play football, some people play rugby. Well, we've got our cows," he said.
"So far, we've got a champion and reserve champion calves so we've had a very good day. It's very competitive and it's getting more and more competitive every year. Every year, you think you've come with a good one and then there's a better one there."
Libby Clarke is one of the organisers and she said the show demonstrated all that is good about the Northern Ireland product.
Quality on offer
"The slump in beef prices coupled with the rise in costs mean the two ends probably aren't meeting at the minute," she said.
"Maybe this is a way of forgetting about it for a day and these people are highlighting the quality we have to offer is second to none right around the world.
"We could do with a rise in beef prices - that's not just greed, that's need at this point. This is big business in terms of enthusiasm and as long as the enthusiasm is there to drive the whole beef industry that's what we need."
"If the right calf came along, it could sell for £2,000, £3,000 or £4,000. But, the thing is, if someone has a cow of that quality they'd probably sell a family member quicker," she said.
But the last word goes to John Killen from Crossgar, a veteran in the show world.
I asked him if these kind of exhibitions are fast becoming a thing of the past as the price of beef continues to fall.
"It wouldn't matter what price beef was. The people who are dedicated to show these good quality commercial cattle will show them anyway," he said.