As purse strings tighten, what is the diagnosis for NI health?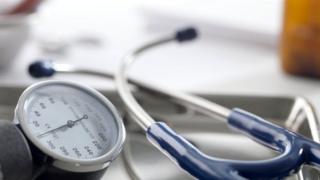 The Northern Ireland health minister, Edwin Poots, has given dire warnings about what could happen to services if his department does not get another £160m.
He is due to appear before an assembly committee on Wednesday.
In March 2011, the then finance minister, Sammy Wilson, delivered a four-year executive budget.
He described a key priority as "preserving the integrity of health care provision in Northern Ireland."
Health did better than any other department in that budget. Mr Wilson suggested that the health service in Northern Ireland had "received the most beneficial settlement anywhere in the UK."
Day-to-day spending was largely protected, meaning it would continue to rise at close to the rate of inflation.
But the budget did not allow it to be completely protected.
The leading health economist, Prof John Appleby, calculated that the plans amounted to a 2% cut in real terms, a view echoed in a budget analysis by PwC.
The then health minister Michael McGimpsey voted against the budget, saying the allocation for health was insufficient.
By the time that Mr McGimpsey left office in 2011, he claimed his department had already made about £700m of efficiencies before that four-year budget had even begun.
However, health has probably done a bit better than that original figure suggests.
It was given first call on reallocation of funds from other departments - in the so-called monitoring rounds.
For example, in October 2013, it got an extra £14m for elective care packages and, in January, it got another £30m to deal with frontline pressures.
So how come it is now at the centre of a budget crisis?
Finance Minister Simon Hamilton said that, in part, there had been "poor budget management" by health service managers.
He added that health had more than three years from the budget was set to ensure it could live within its means.
But if we go back to that 2011 budget document, we can see that even then, health was described as facing an "unprecedented" financial challenge.
While a cut of 2% over four years does not sound like much, it compares to the previous decade where health spending for the UK as a whole was rising at an annual rate of 5%.
So the brakes are being firmly applied.
Health spending also suffers from cost pressures beyond the normal rate of inflation.
There are demographic factors - a growing and aging population means increased demand for the treatment of expensive chronic conditions.
The Institute for Fiscal Studies (IFS) has calculated that this demographic squeeze means health spending per person in the UK will fall by 9% from 2010-11 to 2018-19.
There are also what are known as demand or residual pressures - that includes the costs of new drugs or new medical technologies.
These factors featured in a report commissioned by the Department of Health ahead of the 2011 budget.
The report, by management consultants McKinsey, calculated annual demographic pressures of 1.5% and residual pressures of 2.2% on top of an assumed inflation rate of 1.9%.
That meant spending would need to increase to 5.7% every year - in the absence of a cost reduction programme - simply for the service to stand still.
It suggested that without reforms the system would need a budget of £5.4bn in 2014/15 rather than the £4.7bn it is due to get - a gap of £700m.
That report was subjected to a sceptical analysis from the Department of Finance (DFP), which put the gap in an unreformed service at £300m.
The McKinsey report went on to suggest that the health service could make reforms in staff productivity, social care and prescribing that would achieve savings of up to £600m.
Again, there was a note of scepticism from DFP, which noted "studies of this kind tend to be over optimistic in terms of the amount of savings that can actually be achieved."
Nonetheless DFP said that with "ambition" and a pro-active approach significant savings could be made.
The Department of Health said it had actually managed to make savings of £490m in the three years from 2011/12 to 2013/14.
It plans a further £170m in 2014/15 bringing the total to £660m over the budget period - better than the McKinsey forecast.
But it said those demographic and residual pressures had not gone away and were playing havoc with its budget, leaving a funding gap of £160m in 2014/15.
This now becomes a matter to be decided at the Northern Ireland Executive table.
Do all ministers accept the health department's sums? Will they ask health to make the savings needed to live within its means? Or will they sacrifice more of their own under-pressure budgets?