Pastor James McConnell retires from Whitewell Metropolitan Tabernacle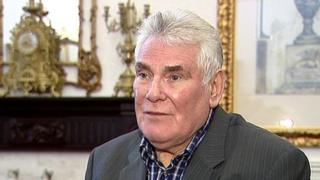 A Belfast pastor who earlier this year called Islam "heathen" and "satanic" has announced his retirement as minister at a north Belfast church.
Pastor James McConnell, of Whitewell Metropolitan Tabernacle, was questioned by police in June about his remarks.
Northern Ireland First Minister Peter Robinson was heavily criticised when he backed Mr McConnell. He later made a public apology.
Mr McConnell has suffered from ill health over the past three years.
He had a heart attack and underwent a quadruple-bypass operation. He is also suffering from cancer.
Announcing his immediate retirement on Monday, Mr McConnell said he had been considering his position for the past 18 months.
He said it was time to "completely hand over the reins to Pastor David Purse and the pastors who assist him".
Mr McConnell, 77, had been a minister at Whitewell for 57 years.
Speaking to his congregation in north Belfast on 18 May, Mr McConnell said "a new evil had arisen" and "there are cells of Muslims right throughout Britain".
"Islam is heathen, Islam is satanic, Islam is a doctrine spawned in hell," he said.
Mr Robinson was heavily criticised when he backed Mr McConnell. Mr Robinson later visited the Belfast Islamic Centre and made a public apology for his comments.
In June, Mr McConnell was questioned by police about his remarks. He apologised for any offence caused.
"I had no intention of causing any offence or insulting any member of the Muslim community," he said.
On Tuesday, a spokesperson for the Public Prosecution Service, said: "An investigation file has been received from police and is under consideration.
"In the circumstances, it would not be appropriate to comment further."
In his retirement statement, Mr McConnell said: "I still believe that radical Muslim ideology and doctrine poses a huge threat to this country and to the world.
"In support of my stance against radical Islam, I received thousands of emails, cards and hundreds of phone calls and gifts left to the church, from all sides of the political divide in Northern Ireland, all over the UK, western Europe, the US, and indeed some from the middle east."