Victims tell of Historical Abuse Inquiry experiences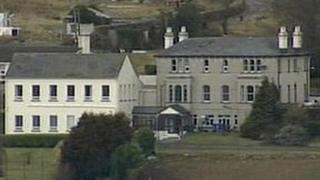 The Historical Institutional Abuse Inquiry (HIA) began in January and so far almost 70 people have given evidence.
Thirty-four of those were children who lived in homes.
Some have told the BBC they are unhappy with the structure of the inquiry and feel that their vulnerability has not been appreciated when they have taken the stand.
Allison Diver, 44, went to live in Termonbacca children's home in Londonderry when she was 10.
She said she suffered physical and sexual abuse during her time there, horrors that are still clear in her mind.
"Nights are the worst for me," she said.
"Where other people would be sleeping, I'm walking the floors. You're remembering every last detail - smells, bangs. It's like someone plays a movie and then won't let it stop and hides the remote control."
Allison gave evidence to the inquiry in February thinking it would remove a weight she had carried for years.
"It was like a conveyor belt. I felt it was just one person after another. There was no support," she said.
"It was like a Pandora's box with chains around it and then you give the inquiry the key and then the chains come off, but you're still left with it. You don't know what to do with it."
Kate Walmsley feels the same. When she gave evidence she was shocked to find out details about her life which she had not been told before.
"The shock of finding out I was abandoned when I was a one-year-old and yet I thought my life had started out with my mummy and daddy when I was a little child," she said.
"The shock of that, and seeing written up on the screens reports from the nuns saying I was a bad child. I'd thought all my life that no-one could like me and I always blamed myself for my mummy and daddy breaking up.
"The nuns used to say it's no wonder your mummy and daddy didn't want you."
Margaret McGukin was among those who led the campaign for the government to examine the abuse and cruelty that took place. Her group Survivors and Victims of Institutional Abuse represents a large number of former residents.
She said they already feel let down: "We don't think justice will be done and we're wondering why we're allowing this to happen to us."
Allison Diver said that despite their day in court, many survivors feel alone.
"We're the biggest orphans ever" she said.
In a statement, the inquiry said it recognises people often find it stressful and upsetting to describe their experiences and that all of its staff are committed to helping each person through the process as sensitively and compassionately as possible.
The inquiry said four of its staff work full-time on witness support and that a member of staff guides each individual throughout the process.
It also said a trained counsellor is on site and each witness is made aware of the support that's available.