Orlando Bloom poses for selfies, shops and dines in Donaghadee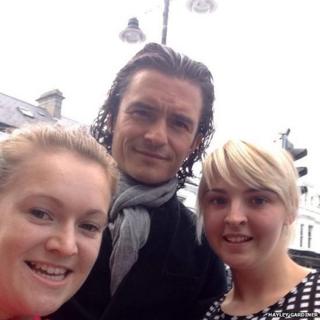 It is not everyday an A-list celebrity pops out for lunch in a small County Down town by the sea.
Orlando Bloom has been to the depths of Mordor, the choppy seas of the Caribbean and now Donaghadee.
Locals were star-struck on Saturday when the Hollywood actor took time out for a bite to eat and a spot of shopping.
He jetted into Northern Ireland for the wedding of actor Flora Montgomery in Greyabbey.
She tied the knot to restaurateur Soren Jessen at the Montgomery ancestral grounds on Saturday.
Away from the exclusive wedding, Orlando headed to a traditional pub in Donaghadee with a group of friends.
Tucking into a salad accompanied with a bloody mary, the Lord of the Rings star chatted to staff and soaked up the sunshine in the beer garden of Grace Neill's.
'Chuffed'
Staff member Cara Garnham, 25, said she was "chuffed" to serve the celebrity customer.
"I had no idea he was coming in and when I realised I tried to act cool and professional," she said.
"He was being all healthy while his friend tucked into burgers - but he seemed to enjoy himself and just chilled out.
"It certainly brightened up my day in work, it's not everyday A-listers come in, that's for sure," she added.
Hayley Gardiner, 18, helped Orlando find the perfect pair of shoes for the wedding when he did some last minute shopping in a shoe store.
"It didn't click at first it was him at all and we were all scared to ask him," she said.
'Really lovely'
"He wanted to buy a pair of jelly shoes which cost a fiver for a girl he was with, as a souvenir from Donaghadee, but we didn't have her size.
"I feel quite lucky because he said no to loads of people who had asked him for photos, but when I ran down the street after him, he said he'd be happy for a selfie."
"He was really lovely and dead-on," she added.
Orlando set tills ringing in the footwear store and left smiling with his purchase - a pair of trainers.
Other guests in County Down for the wedding included Crown Princess of Denmark Mary and her husband Crown Prince Frederik.