Invest NI involved in fund to help NI firms with property debts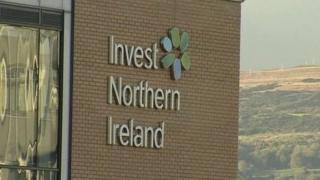 Invest NI is involved in discussions about a new fund - potentially worth at least £50m - to help firms crippled by property debts.
It is an idea put forward by a senior banker in February.
An estimated 30% of medium-sized firms bought property during the boom, but many say loan repayments to banks are damaging their main businesses.
The fund would allow them to restructure the debt, paying it back over a much longer time frame.
Invest NI has backing for what is known as a "property overhang fund" from two Stormont departments - enterprise and finance.
However, establishment of the fund is dependent on private finance backers also being found.
"We are currently gauging the extent of other investor interest," said Invest NI.
Discussions have been taking place for several months and have also included Secretary of State Theresa Villiers.
Capital is being sought from the British Business Bank, set up by the Westminster government to help small and medium enterprises.
The application has been made by Whiterock Capital, a firm which already manages another Invest-backed fund, the growth loan fund.
The idea was floated earlier this year by Kevin Kingston of Danske Bank, who said then that it might not work for all indebted businesses.
For others though it would prevent cash flows being eaten up by bank loan repayments - money which could otherwise be used to grow their businesses.
Loans from the fund would be more flexible than bank lending.
But firms would repay more in interest or it could involve giving up an equity stake.