Tennessee to Tyrone: Omagh hosts 23rd Bluegrass Music Festival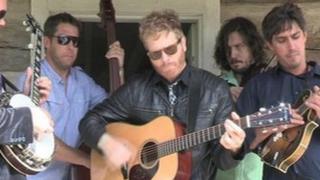 Ten thousand people are expected to make their way to Omagh for the largest bluegrass festival outside of North America.
The Ulster American Folk Park, County Tyrone, is staging the 23rd annual Bluegrass Music Festival this weekend.
Home-grown talent will join international acts from the US and Canada on the line-up.
The event has been supported by funding from the Northern Ireland Tourist Board and Omagh District Council.
From Tennessee to Tyrone, musical traditions have bounced back and forth across the Atlantic since the 18th century.
Ulster American Folk Park visitor services manager, Richard Hurst, said there was no better place to celebrate bluegrass music.
"We tell the stories of immigration from the nine counties of Ulster to America," he added.
"We took with us our proud traditions around music, song and dance and mingled it in with the music arriving from other parts of Europe at that time.
"That manifested into what we now know as old-time bluegrass music."
Artists tuning up for the event include American Dale Ann Bradley, Canadian step dancer and fiddler April Verch, and US band Love Canon.
Sligo band Rackhouse Pilfer and Belfast group White Mansions are also performing.
"Once again, we have a world-class line-up for visitors to enjoy," Mr Hurst added.