Justice minister orders report over claims Garda sent texts to dissident suspect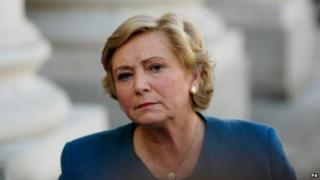 The Irish Justice Minister has said she is disturbed by reports that a member of the Garda Siochana texted sensitive information to a paramilitary in Northern Ireland.
The claim was made in an article published in the Evening Herald newspaper on Friday.
The paper claims the communication happened sometime in the last year.
Frances Fitzgerald said she wanted the facts to be established as a matter of urgency.
The Evening Herald reported that the communication contained details about two dissident suspects who were questioned at a Garda (Irish police) station in Leinster where the member of staff is believed to have worked.
In a statement, the Department of Justice said: "It would be completely unacceptable if information of any kind were to be passed by a member of An Garda Siochana to members of unlawful organisations.
"It is understood that An Garda Siochana is aware from its own intelligence and enquiries of suggestions that a member of the force passed on the names of persons who had been arrested on a particular occasion.
"The member in question has since resigned and is currently under criminal investigation in relation to this and an unrelated matter.
"The minister has asked the interim Garda Commissioner Noirin O'Sullivan for a full report on this matter."
In December last year the Smithwick report found that an un-named garda officer had colluded in the murder of two senior RUC officers in the 1980s.
John McBurney, a lawyer who represented one of the RUC families at the Smithwick Inquiry, has described that lack of disciplinary action as totally unsatisfactory.
A garda spokesperson said; "An Garda Siochana is currently investigating the matter.
"As requested, An Garda Siochana will provide a full report on the matter to the minister for justice.
"As the investigation is ongoing it wouldn't be appropriate to comment further at this stage."