BBC reveals line-up for Belfast's Last Night at the Proms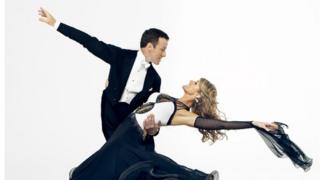 The BBC has announced that the English tenor Alfie Boe will be among the artists performing at Proms in the Park in Belfast next month.
Also appearing are dance superstars Anton du Beke and Erin Boag from BBC TV's Strictly Come Dancing.
The event, which is now in its 13th year, returns to the Titanic Slipways on Saturday 13 September.
The concert is BBC Northern Ireland's biggest outside broadcast event of the year.
The event will bring together artists from Northern Ireland and around the world. They will be performing alongside the Ulster Orchestra in a programme which combines classical and contemporary music. This year is one of its most eclectic line-ups of artists ever.
Grammy-nominated saxophonist Amy Dickson takes to the Titanic stage having performed in venues across the world, including the Sydney Opera House and the Royal Albert Hall.
The virtuoso violinist, Kirill Troussov, will also be performing. Born in St Petersburg, he is said to be one of the leading violinists of his generation.
BBC Young Musician 2014 winner, 17-year-old Martin James Bartlett, will make his Proms debut in Belfast.
North Carolina jazz singer Dana Masters will be accompanied on stage by some of Northern Ireland's finest jazz musicians.
The Proms in the Park event in Northern Ireland will be hosted by Noel Thompson and Claire McCollum.
Last Night of the Proms events will also take place at other locations across the UK.
This year the BBC Proms is celebrating 50 years since the release of Disney classic Mary Poppins with a sing-along medley during the event.
People have been invited to record a video of themselves singing Supercalifragilisticexpialidocious and send it to the BBC Proms using the details provided on the BBC Proms celebration website by 31 August.
The videos will be edited together to create a virtual choir and the finished results will be revealed online and during the event.
Eleven thousand free tickets for the event were issued through a random draw.
Extracts from Northern Ireland will be carried nationally across BBC One and BBC Two on the night. Viewers may also choose to watch the entire Belfast concert online at bbc.co.uk/proms. Further extracts will be carried on the BBC red button, and BBC Radio Ulster will also be live on the night with presenter John Toal. BBC Northern Ireland and BBC Four will both broadcast television highlights programmes of the event later in the year.