District nurse speaks of daily job pressures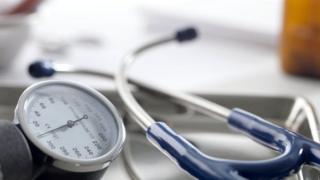 A district nurse has spoken about the pressures she faces in her job on a daily basis.
Speaking anonymously to Radio Ulster's Talkback programme, she also expressed her concern over the prospect of further cuts in the health service.
She was responding to Health Minister Edwin Poots' warning over a £140m shortfall to his budget.
The minister warned he would not implement cuts that would "destroy our health service".
The nurse described how district nursing was on a "knife edge" and on the "verge of collapse".
She revealed to the programme that she was "racing from patient to patient".
On Thursday, the BBC published a paper by Mr Poots outlining how the health service would be impacted by the potential cuts.
The paper showed that cuts could restrain pay for health sector staff, lower the number of agency staff and reduce spending on home care packages.
"The service is slipping, and slipping, and slipping. You cannot dilute care, you cannot dilute people, and you cannot dilute care for people," she said.
"We are being abused and patients are losing out big time.
"We are visiting palliative care, terminal patients, very complex patients that are being discharged earlier and earlier from hospitals, vulnerable cases, dressings and insulin.
"Time is so limited we are racing from patient to patient."
The nurse spoke about the pressures of the job.
"You can never switch off. You go home and you waken through the night remembering about somebody, or something," she said.
'Clock-watching'
"We are in with patients who are dying and as we are holding their hands we are are clock-watching.
"I'm thinking I need to spend a wee minute here, but I shouldn't be here, I have a time visit waiting."
The district nurse said the staff have to use their own mobile phones, cars and pay their own mileage over a certain travel distance.
"That's a punishment. Going a certain distance to see a patient that is ill is not something we are doing on purpose."
The nurse said people on the front line were going off sick because they could not take it anymore.
"We are getting inexperienced nurses coming in and we are covering their backs as well as our own," she said.
"Inexperienced nurses cannot come out to the district and look after a terminal patient. It cannot happen, but it's going to happen."