Man refused bail over alleged north Belfast murder attempt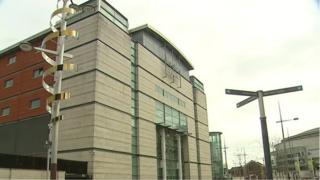 A prominent loyalist allegedly gave orders before a gun attack on two high-profile rivals in north Belfast, a court has heard.
John Bunting was heard to instruct "get the pieces" before John Boreland and Andre Shoukri came under gunfire, it was claimed.
Mr Bunting, 47, is one of three men charged with attempting to murder the pair last week.
Mr Boreland, 44, was shot in the thigh, while Mr Shoukri escaped injury.
The alleged attack was linked to heightened tensions between loyalist factions in the area.
Although Mr Bunting denies involvement in any shooting incident he was refused bail on Friday.
The community worker, of Stonebridge Avenue, Conlig, County Down, was arrested and charged along with John Howcroft, 46, of Formby Park, and Darren McCalister, 31, of Alliance Road, both in Belfast.
All three are also charged with possessing a firearm with intent to endanger life.
The alleged gun attack occurred at Carr's Glen Park in the Ballysillan area of Belfast on 20 August.
Belfast Magistrates' Court heard claims that Mr Boreland and Mr Shoukri were in a car when it was hit by a bottle.
According to their accounts, the pair got out to confront a group of men. Mr Boreland alleges he then heard Mr Bunting give a direction before the shots were fired.
A detective involved in the investigation described it as a "brazen" attack in a residential area.
Opposing bail, he claimed there was a risk of witness intimidation and said other people were still being sought in connection with the shooting.
A defence lawyer criticised the police investigation.
He said detectives should have sought an extension in the time his client was held in custody so they could make further inquiries.
"This was a rushed, shoddy and incomplete investigation, resulting in an abuse of the charging process," he said.
The lawyer set out how Mr Bunting had been at a meeting with a senior police officer hours before the incident to discuss ongoing tensions in the area.
The accused later provided a full account of his movements and remained calm at the scene when police spoke to him, the court heard.
The lawyer also claimed there were deficiencies in the forensic follow-up.
He provided a range of references from figures on both sides of the religious and political divide to support Mr Bunting's bid for bail.
One of them, from an unnamed clergyman, said: "In many people's eyes the current situation represents a victory for the enemies of peace and law-keeping.
"John Bunting's release on bail would go some way to counterbalance this perception."
Despite describing the references as "quite extraordinary", the district judge refused bail due to the ongoing police investigation.
He added, however, that depending on the outcome of those inquiries, he may be minded to grant a future application.
Mr Bunting was remanded in custody to appear again in court by video-link on 18 September.