Sinn Féin 'will not endorse' potential health service cuts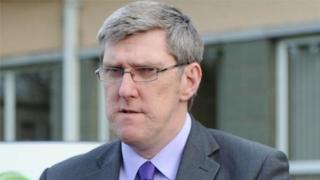 Sinn Féin MLA John O'Dowd has said potential health cuts outlined in a paper by the health minister "will not be endorsed" by his party.
The paper shows that cuts could restrain pay for health sector staff, lower the number of agency staff and reduce spending on home care packages.
Edwin Poots has said his department faces a £140m shortfall.
On Friday, a Northern Ireland doctor said the cuts could have a "catastrophic" effect on patient care.
'Bleeding stump'
Speaking on BBC's Nolan programme on Friday, Mr O'Dowd said the document was "not a health paper or a budget paper", but a "political paper" designed to coerce the other Stormont parties into agreeing further funding for the Department for Health.
He said: "There's a strategy known as 'bleeding stump', and when you're seeking further funding for your department, officials will come up to you and say 'minister, here's the bleeding stump strategy' and they will present you with the worst case scenario possible.
"If this paper is presented to the executive as the only choice it will not be endorsed by Sinn Féin, so therefore it's going nowhere."
'Crisis'
He added that the paper presented by the health minister would "not be the final outcome of (this) debate".
"Health needs more money, but how we achieve further funding for health and where that money will be invested for health - that's the challenge which faces politicians in the executive," he said.
"What we will be doing is interrogating the paper and we will be seeking, where we can, additional resources for the health service.
"What we will also be continuing to do is challenging the minister over how he is managing the health service, how his management skills apply to that service and how his financial skills apply to that service."
The Ulster Unionist party's health committee spokesperson, Jo-Anne Dobson, called for an "urgent" meeting of the executive to deal with the ongoing financial pressures.
"This isn't an impending crisis - it has already begun," she said.
"My party is totally clear that, for us, this issue is not about politics. It is about people's lives and that is why it is vital that the executive meet urgently, not in two weeks time, to reach a resolution and protect the public."