From bomb to boom: How Newry has changed dramatically since ceasefires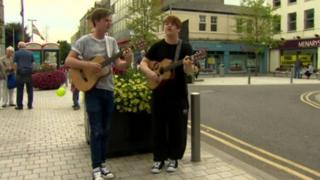 The peace process and the paramilitary ceasefires have given a whole new meaning to Newry's reputation as a "boom town".
Before the first IRA ceasefire in 1994, it was usually in the headlines for all the wrong reasons.
The County Down border town was the scene of frequent bomb and gun attacks.
Twenty years later, Newry is now defined more by economics than politics.
It has established a reputation as a shopping hub, and during the mid-2000s there was a boom period when there were tailbacks of vehicles across the Irish border with carloads of customers queuing to get in.
Commerce has slowed down in more recent years, but Newry, which gained city status in 2002, has been transformed in the past two decades.
However, old reputations are hard to shake.
Type into Google the phrase "Newry boom" and the website asks: "Did you mean Newry bomb?"
Two large shopping centres, the Buttercrane and the Quays, are symbols of the new Newry.
Growth in the property sector has been spectacular.
Garry Best, director of Best Property Services, said: "The general assumption in the residential market in Newry, was that the property price would double within 10 years, but the impact of the peace process meant that 1994-2004 property prices trebled.
"At the peak of the market, they were almost four times the pre-peace value.
"Pre-1994 development land would have been valued at £27,000-30,000 per acre, but the peace process and growing demand saw that figure multiply rapidly to £1m an acre, in the decade that followed."
The military watchtowers which used to surround Newry have now gone, and millions of pounds have been spent on improving roads, pathways and buildings.
It is now a confident, colourful city.
Although it is by no means perfect, it is one of the most visible examples of how Northern Ireland has changed in the past two decades.
Declan McChesney, owner of Cahill Brothers shoe shop, said: "The 1970s and 1980s were dreadful days in Newry. We were burned down. We got collateral damage from bombs.
"You never knew whether you'd get a full day's trading.
"I always aspired for Newry to be the same as London, as Brighton, as Norwich, as Liverpool, that it would have the selection of shops, of people, and be an open society and a welcoming society. I now feel we have achieved that in Newry."
Siobhan and Michelle Reel co-own Deli Lites coffee shop.
With their three sisters, they opened the shop in Newry just before the 1994 ceasefires and now have six cafes.
Siobhan said: "Back in 1994, the political situation was stabilising and it gave us growing confidence. We were young, enthusiastic and prepared to take a calculated risk.
"We felt there was a need in the area for what we had to offer.
"Newry is now a thriving place and we're very proud to be doing business here."
Rory Rafferty, 28, from Newry Rainbow Community, said it was an easier place to live now.
"Even from when I was at school, it has changed considerably. People are happier to stay here and to be who they are," he said.
"There's been a huge change. People are much more confident now."