1985 state papers: Businessman Sean Quinn alleged discrimination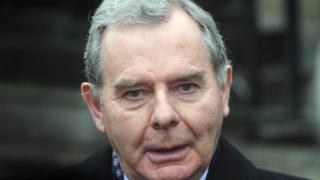 The difficulties faced by Fermanagh entrepreneur Sean Quinn in developing his border business in the 1980s, are outlined in this year's Stormont files.
In particular, they highlight the formidable political and commercial opposition to the launch of his cement industry.
There were also serious allegations by the nationalist businessman of political and sectarian discrimination.
The files were released by the Public Records Office in Belfast on Friday.
They concern an application by Mr Quinn for Industrial Development Board (IDB) support for a new cement plant at Derrylin, County Fermanagh, in 1985.
In February of that year, the then Ulster Unionist leader James Molyneaux had rejected a private appeal from Mr Quinn for his support, alleging an over-capacity in European cement manufacturing.
'Serious repercussions'
The IDB found the project viable, but noted that the Quinn Group revolved around "the personality and drive of Sean Quinn", whose "death or incapacity" would have serious repercussions.
Nonetheless, it accepted Mr Quinn's predicted market growth for his cement project of 20% within four years and offered him a grant of £3.37m - 20% of capital expenditure .
The proposed 20% grant, however, fell far short of Mr Quinn's expectations.
On 15 April 1985, he wrote angrily to SDLP leader John Hume alleging that he had been treated in "a discriminatory manner" and seeking Mr Hume's intervention with commerce minister Rhodes Boyson.
Mr Quinn contended that a 40% grant was justified in view of the attractiveness of the project, its high employment content in an area of high unemployment and the fact that Blue Circle (Cement), a long established, monopoly company, accounted for only 62% of usage.
In his view, there were a number of real reasons for his unfavourable treatment.
Concession
He said these included an unwillingness to support investment in an area west of the Bann, with an overwhelmingly large nationalist majority; in effect, a form of "religious discrimination".
He said there was also a concession to the political and commercial lobby against the project, mounted by those who would not wish to see strategic economic investment in south Fermanagh, particularly if, as they would wrongly see it, employment in more staunchly unionist areas might be affected.
The SDLP leader referred Mr Quinn's letter to the minister.
This prompted a confidential memo from PT Bill of the IDB admitting Mr Quinn's allegation that the hostility of existing companies such as Blue Circle and Irish Cement was "a factor in the decision to deny Quinn a larger grant".
There was also a danger that Blue Circle would close its Larne plant, it was said.
The minister, he suggested, should advise the SDLP leader "that the IDB had gone to the limit" with its existing offer.