1985 state papers: Parades issue festered 30 years ago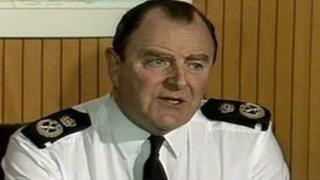 The roles of the secretary of state and the RUC chief constable in a parading decision in 1985 have been revealed.
Confidential files show Douglas Hurd and Sir John Hermon raised concerns about the safety of police officers.
A Twelfth march in Portadown was directed away from the strongly nationalist 'Tunnel' area after years of tension.
The documents have been released by the Public Record Office in Belfast under a '20 Year Rule'.
The recurring issue of parades preoccupied the Northern Ireland Office (NIO) in the run-up to the 1985 marching season as the Troubles continued.
On March 7 1985, an official, Paul Buxton, wrote to the Assistant Chief Constable Michael McAtamney on the need "to temper the heat and emotion that is generated every year [during the Orange marching season]".
This followed the IRA mortar-bombing of Newry RUC station which killed nine officers - an escalation which put considerable constraint on the security forces.
'Direct appeal'
Against this background, the head of the NI Civil Service, Ken Bloomfield, asked Bishop (now Lord) Robin Eames to report on the issue.
The bishop felt that the NI secretary should make a direct appeal to the leadership of the Orange Order and kindred organisations to avoid "flashpoints and sensitive areas".
Mr Hurd immediately wrote to leading Orangemen, James Molyneaux and Rev Martin Smyth, MPs: "I am frankly anxious and so is Jack Hermon at the risk to which police can sometimes be exposed in dealing with processions and parades which pass through or close to particularly difficult or sensitive areas."
He appealed for their personal assistance.
'Sheer unreasonableness'
The chief constable was clearly determined to confront the parading issue, telling an official on March 19: "His instinct would be to encourage the secretary of state to challenge the Orange and Black leadership over the whole basis of traditional marches at the moral level, pointing out the sheer unreasonableness and injustice of their continuing to insist on going through or past the same areas as of yore, quite irrespective of whether the communities living in those areas had changed completely.
"For the nationalists this was a massive dose of inequality."
The issue continued to fester and at a security meeting on 22 March 1985, Mr Hurd was "scathing" about an RUC decision to re-route a Hibernian parade in Portadown.
His view was shared by the chief constable who "considered that the RUC's refusal to let the [nationalists] march past loyalist demonstrators, carried a clear moral for the treatment of the loyalist march down Obins Street in Portadown in July, if not more widely ...".
Subsequently, the Twelfth Orange parade was re-routed away from the strongly nationalist 'Tunnel' area after years of tension.
Unionists wrongly blamed "Dublin interference" and widespread rioting followed.