Belfast International Airport: Apology over security check delays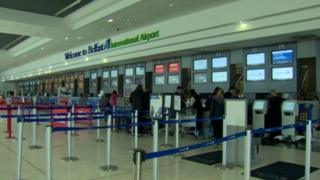 Belfast International Airport has apologised for delays during security checks on Thursday night.
Frustrated passengers faced lengthy queues because only one scanner was open instead of two, due to staff shortages.
The airport said it would be investigating what happened to "ensure there is no reoccurrence".
Belfast International Airport spokesman Uel Hoey said the situation was "regrettable".
Speaking on the BBC's Good Morning Ulster programme, he said: "We normally have two security channels open.
"For reasons which we are investigating at this point in time, we only had one open last night.
"We will look into it as a priority.
"We can only apologise to passengers who were affected."
The problem peaked between 18:00 BST and 19:30 BST.
Mr Hoey said the situation was under control by 20:00 BST and the airport had been "running smoothly" since then.
There are at least five scanners at the airport.
Mr Hoey said all of the machines would only be opened in "extreme circumstances".