1985 state papers: Files reveal ban on Irish language bibles at Maze Prison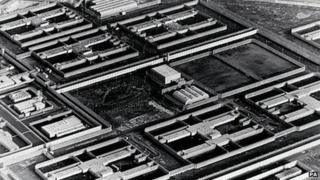 The British government banned Irish bibles at the Maze Prison, previously confidential files have revealed.
In a briefing note, an NIO official said prison officers had confiscated a number of Irish language bibles on security grounds in 1985.
It was discovered that prisoners had been inviting other inmates to write their details on the fly leaves.
The hand-written note was contained in documents released by the Public Record Office in Belfast.
It was written by S C Jackson and addressed to the Secretary of State, Douglas Hurd, on 4 July 1985.
The note was released as part of the phasing-in of a '20-year rule' which will replace the '30-year rule' for releasing confidential files, which has previously been in place.
It revealed prisoners had invited numerous other inmates in the republican H Blocks to write their details and other notes on the fly leaves of the bibles.
The bibles had been provided by the prison authorities.
They were confiscated due to fears that the personal details of prison officers might be surreptitiously recorded and passed out of the prison.
There was also the possibility that 'autographed bibles' might be used in propaganda and fundraising activities in the United States by organisations such as Noraid, an IRA support group.