Lurgan 'scavenger' role revealed in 168-year-old document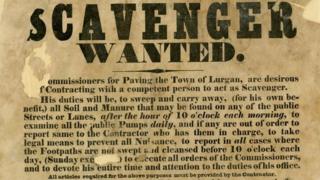 More than 150 years ago, a job came up in Lurgan for those who don't mind getting their hands dirty.
The role of "scavenger" required flexibility, punctuality and a clean track record.
It also needed the willingness to "sweep and carry away" all soil and manure found on the streets of the County Armagh town.
The unusual job advertisement has been named 'document of the month' by the Public Record Office in Belfast.
The advertisement, published on 3 August 1846, was posted by the "commissioners for paving the town of Lurgan".
Among the responsibilities for the successful applicant was checking public water pumps everyday for faults, reporting instances when footpaths have not been swept and to "take all legal means to prevent all nuisance".
'Fascinating'
Gavin McMahon, from the Public Record Office (PRONI), said the job advert offers a special insight into everyday life in the nineteenth century.
"This was around the time of the famine," he said.
"Towns were full of dirt and waste. There were no motor vehicles at the time, animals were often walking up and down the street.
"So, the scavenger's job was very important. They are there to maintain the streets and make sure they are kept clean."
He said the document is part of a number that are "fascinating".
"They tell you about the infrastructure of the town, the history of the town and certain names of people that might come up."
He said a person could find out that "the employee who became a scavenger might actually be a relative of your own".