NI state papers: What do we learn from the 1985 papers?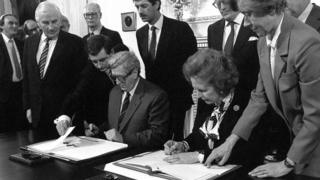 1985 will always be associated with the historic signing of the Anglo-Irish Agreement marking a new relationship between London and Dublin, and the ensuing wave of loyalist protests.
On 23 February 1985, the SDLP leader, John Hume, accepted a challenge to meet the Provisional IRA, but walked out within minutes when the paramilitaries insisted on recording the meeting.
The same month saw a dramatic rise in violence which reached a climax on 28 February when nine RUC men were killed in an IRA mortar attack on Newry RUC station.
Tensions
Amid growing tensions over the Orange marching season, the controversial Twelfth of July parade through the Obins Street area of Portadown was re-routed to loyalist anger.
The autumn saw an intensification of the ongoing Anglo-Irish negotiations for a new London-Dublin agreement.
The agreement was signed at Hillsborough by the British Prime Minister, Margaret Thatcher and the Taoiseach, Dr Garret FitzGerald on 15 November.
It gave the Republic of Ireland a consultative role in NI affairs through an inter-governmental conference, backed by a British-Irish secretariat, based at Maryfield, outside Belfast. Unionist anger spilled onto the streets.
'20 year rule'
The death toll for the year was 55: 26 civilians and 29 RUC and Army fatalities.
The 1985 state papers have been released by the Public Record Office in Belfast's Titanic Quarter under a phased shift to from a '30 Year' to a '20 Year Rule', recently introduced by the NI Assembly.
Some files have been redacted on grounds of sensitivity.
The change will involve double releases annually for the next 10 years.