Twenty new electrical jobs announced for Tempo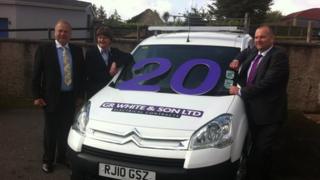 An electrical contractor has announced that it is creating 20 new jobs in a County Fermanagh village.
G R White and Son, based in Tempo, currently employs 35 people and will take on apprentices, qualified electricians and project planners.
Invest NI has offered £42,000 to support six of the new positions at the family-run firm which was established 42 years ago.
The company plans to expand its work in Scotland and Ireland.
The firm is focussing on new opportunities in the renewable energy sector.
Operations Director Rodney White said they had survived the recession by seeking work in new markets.
"It's been a tough time, so much so we've had to diversify into new markets," he said.
"We've had to seek work opportunities in the UK and in the Republic of Ireland which I have to say have bolstered up what we've lost here in the last three to four years.
'Skills shortage'
"There are signs of improvement here, it's slow, but I'm optimistic about the future and I think it should improve gradually."
However, Mr White, who sits on the board of directors of the Electrical Training Trust for Northern Ireland, said the recession had led to a skills shortage.
"As the upturn starts to gather some pace we're all concerned about the lack of skills in Northern Ireland," he said.
"A lot of people have emigrated, a lot of people have diversified into other roles in life.
"They've taken on new jobs that are completely different to what they used to be doing because they wanted security, so I really do have some fears going forward for the skills and the shortage of them.
"But, for ourselves as a company, we're currently recruiting apprentices and that's going to be key to our survival as well, we must have people coming in at the bottom to fulfil ranks down the years at the top."
Enterprise Minister Arlene Foster said the local economy has stabilised and a lot of small businesses are now looking to expand.
"We will see a number of announcements coming over the next period of time of family businesses, of local businesses, that are looking to the future and are growing now."