Northern Ireland has stormiest winter in 143 years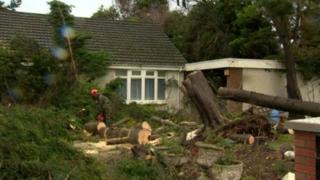 The winter of 2013/14 was the stormiest in 143 years across Ireland and Britain, according to climatologists.
At times, winds with gusts of more than 80 mph (128 km/h) battered the coast, brought down power lines and trees and caused damage to buildings.
It cost almost £1.4m to repair roads damaged by the storms in Northern Ireland, according to the Department for Regional Development.
The largest single bill was £382,000 to fix the sea wall at the Rostrevor Road near Warrenpoint, County Down.
Part of the wall and the road collapsed into the sea as it was battered by waves.
Warnings
Many flights were delayed or cancelled, ferries were disrupted and there were reports of fallen trees blocking roads.
A series of 'Amber' warnings - which mean to be prepared for disruption - were issued by the Met Office.
A 'Red' alert - which means to take action - was issued by Met Éireann in the Republic of Ireland as winds of more than 90 mph (144 km/h) struck coastal areas.
"The exceptional nature of last winter's storminess emphasises the importance of understanding the processes driving such extremes, particularly in light of projections of increased cyclone activity in this part of the Atlantic," said Dr Conor Murphy from Maynooth University in County Kildare.
'Intensity'
The scientists used long-running atmospheric datasets to characterise winter storminess over the North Atlantic for the last 66 years and as far back as 1871-1872 for Ireland and Britain.
"The number and intensity of cyclones experienced each year has a significant influence on the amount of rainfall and extreme wind speeds," said Maynooth University lecturer Dr Tom Matthews.
"Inspired by the severe weather we experienced last winter we decided to assess the extent to which these conditions were unusual in the long-term context."
The research was carried out by scientists at Maynooth University in County Kildare and Loughborough University in England.
They discovered that the first winter of World War 1 experienced more storms and that they were, on average, more intense during the late 1980s to early 1990s.
However, when the frequency and intensity of storms were combined it was concluded that no year in the 143-year record endured a winter as severe as 2013-2014.