Nancy Soderberg: NI politicians have shown 'abysmal abdication of leadership'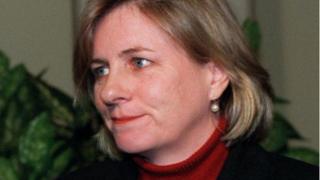 A senior aide to former US president Bill Clinton has accused Northern Ireland politicians of an "abysmal abdication of leadership".
Nancy Soderberg said unionist and nationalists were "far too stuck in the past, making progress vulnerable and even reversible".
She made the comments in an article in Thursday's Irish Times newspaper.
Ms Soderberg, a former deputy national security adviser, said many people take peace for granted.
She looked back at the Northern Ireland peace process in the article to mark the 20th anniversary of the IRA ceasefire in 1994.
She said in the years since the 1998 Good Friday Agreement, progress had been made on "governing on policing and holding the peace".
But she added: "The two communities remain far too focused on the injustices of the past."
Ms Soderberg, who was also an ambassador to the United Nations, wrote: "Good leaders would be able to recognise the righteousness of the other side and step forward to compromise and build a more prosperous future.
"Good leaders would get past the flags, parades and the legacy of the violence of the Troubles and work together to attract investment, technology, and build the best schools which are no longer segregated."
"It's time to get beyond the past and build a Northern Ireland that can compete and thrive in the 21st century."
Her remarks come on the day that former US senator Gary Hart is due to meet Northern Ireland parties in Belfast.
It is understood Mr Hart will use his visit to assess how the United States can assist the parties in Northern Ireland to advance the peace process.
Last December, inter-party negotiations on the issues of flags, parading and the past, chaired by Former US diplomat Dr Richard Haass, broke up without agreement.