Gary Hart: Former US Senator meeting Northern Ireland parties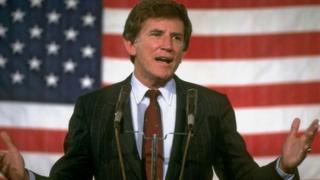 Former US Senator Gary Hart is meeting representatives of the Stormont Executive parties as part of a fact-finding trip to Ireland.
Speaking after his meeting with Mr Hart, Sinn Féin's Martin McGuinness said his party welcomed US engagement in the political process.
Mr McGuinness called for "a hands-on proactive approach by the British and Irish governments in any negotiations".
The DUP's Nigel Dodds said there would be no fresh round of Haass talks.
He said he was happy to brief the visiting American on issues like parades and welfare reform, but believed any future discussions must be internal to Northern Ireland.
SDLP leader Alasdair McDonnell said his party welcomed the US interest.
"Political development here has been stalled for some time, and the hopes and expectations of the public have been dashed.
"There is an onus on all parties and the two governments to play their part in the heavy lifting that is required to achieve progress," he said.
An Ulster Unionist spokesperson said the party had "outlined our position and thoughts on the way forward".
Mr Hart's first meeting of the day was with the Alliance Party.
The party's Stephen Farry and Naomi Long described the current state of Northern Ireland politics as "perilous".
Mr Hart is also holding discussions in Dublin and London.
The former senator has been asked by the US Secretary of State, John Kerry, to assess how Washington can help advance the peace process.
The shadow secretary of state said the trip sent a "very strong signal from the American administration".
"It's really important that Senator Kerry sees Northern Ireland as important," said Ivan Lewis MP.
"To send a close ally over here to try and help in a situation where we have deadlock over flags, the past and parades.
"There is no doubt now that the parties here need external help to make some progress."
Negotiations chaired by Former US diplomat Dr Richard Haass broke up without agreement at the New Year.
The US Assistant Secretary of State Victoria Nuland visited in June.
During her brief trip to Stormont, the issues of flags, parades and the past were discussed.
BBC NI Political Editor Mark Devenport said sources insisted Mr Hart was "not a new US Peace Envoy and he is not taking Richard Haass's place as a talks chair".
A former Democratic senator for Colorado, Gary Hart sought the party's nomination for president twice in the 1980s.
On the second occasion he withdrew from the race after negative publicity over his alleged relationship with a model, Donna Rice.
Since retiring from the US Senate, Mr Hart has worked as a consultant on US national security matters.