The Great British 'miscakeage of justice'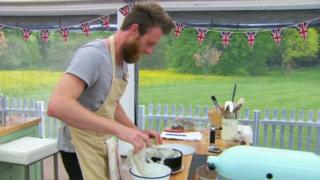 Northern Ireland's man in the Great British Bake Off lost his cool on Wednesday night in a moment when everyone froze in the big white baking tent.
Belfast man Iain Watters went into meltdown after his ice cream sank into a wet gloop in the heat.
He was disgusted. He couldn't let it slide - even though it slithered.
"Look at it, you cannot present it," he said, holding his cake disaster.
So he ditched his Baked Alaska into a bin and walked out of the tent in Wednesday's episode.
But there were cries of foul play from angry fans after it appeared that another competitor, Diana Beard, found his creation in "her" freezer and removed it - leaving it to melt on the bench.
She said, sheepishly, that he had his own freezer.
It could have been an innocent mistake; it could have been showstopper sabotage.
Whatever, the Alaska sank to a sloppy puddle in the heat of the day and Iain found himself truly licked with a bottom that was soggy to the core.
When it came to showing his showstopper to Mary Berry and Paul Hollywood he walked up and showed them the bin where he had thrown it.
But the man with what comedian presenter Sue Perkins called the "russet Gandalf" beard was apologetic later.
"I had some issues with the ice cream and let that get the better of me," he said on reflection.
"I didn't cope with the situation very well. I have to learn to deal with my frustrations and I will try not to throw it in the bin."
Master baker Mary Berry told him: "It was just a moment of your life that you want to forget."
He might want to forget it, but Bake Off fans were not so easily swayed.
As Iain was put out of the competition, his followers took to Twitter to tweet their absolute disgust.
They ganged up on Diana and charged to the Belfast man's rescue.
"Outrageous! Punishing Iain for his passionate response to blatant sabotage," said one tweet.
"Not fair," stormed another, "She should have owned up."
Yet another cried: "This is the greatest miscakeage of justice this century."
One tweeter took another view: "It was obvious Iain had to go. You can't throw your Baked Alaska in the bin and walk out and get away with it," he said.
Then presenter Sue Perkins waded into the debate.
"Iain's Alaska was out of the freezer for 40 secs. That's it. No sabotage. 40 secs of normal temp would NOT be enough to reduce it to liquid," her tweet said.
Paul Hollywood tweeted: "At the end of the day Mary and I need something to judge, it's not about melted ice cream but about what's presented to us... #bingate."
Iain, who is from Belfast but lives in London, said he did not handle the pressure in the tent as well as everyone else.
"It was a very hot day with everyone fighting for space in the freezers, and I didn't feel that I coped with the situation very well.
"I am passionate as a personality and a baker, so I do tend to get frustrated when the bakes don't go well," he said.
Meanwhile Diana, Bake Off's oldest competitor, who fashioned her Alaska in the shape of a swan, was told by the judges that she should hold her head up as her baking was good.