Philip Lamey: Ex dental professor loses case for unfair dismissal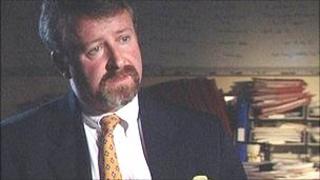 A former professor of dentistry has lost his case for unfair dismissal brought against Queen's University.
An industrial tribunal in Belfast ruled unanimously that Prof Philip Lamey's contract had been followed properly.
Prof Lamey, a specialist in oral medicine, had been employed by the Belfast Health Trust and the university.
He had accused Queen's in Belfast of failing to give him adequate notice of dismissal.
Prof Philip Lamey was known as a clinical academic and had two roles - one as a practising dentist at the Royal Victoria Hospital and another as a tutor to hundreds of Queen's University dental students.
Despite his dual role, he had only one contract.
This was terminated earlier this year following allegations of misconduct that are currently being investigated by the General Dental Council,
Prof Lamey argued he should have been served notice by both employers and not just the trust, which sent him a letter of dismissal.
During the tribunal hearing, Prof Lamey argued that he was owed two and a half months' salary, as well as damages.
However, the tribunal ruled unanimously that the contract had been followed properly and dismissed his case.