Cliftonville goalkeeper Conor Devlin guilty of assault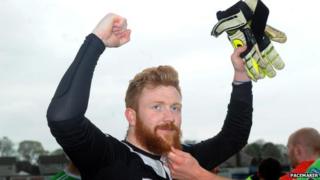 An Irish league footballer has been convicted of a nightclub assault on a rival player.
Cliftonville goalkeeper Conor Devlin, a former Manchester United reserve player, knocked out Jim O'Hanlon with a single punch.
He reacted after the Glentoran winger repeatedly pulled on Devlin's beard, Belfast Magistrates Court heard.
The 22-year-old was fined £400 and ordered to pay a further £400 in compensation.
His lawyers said Devlin, of Hightown Rise, Newtownabbey, would appeal against his conviction for assault occasioning actual bodily harm.
'Friendly banter'
The two footballers gave conflicting accounts of the incident at a nightclub in Belfast's Odyssey complex in January.
Both men had been on nights out after their Belfast-based teams played in separate Irish Cup matches.
O'Hanlon told the court he had joined up with Devlin's group through mutual friends.
The Glentoran player said he had stroked the goalkeeper's beard once or twice in "friendly banter" but was told to stop it.
"I didn't feel as if there was any aggression being shown or anything that would lead to what happened," he said.
"I don't remember anything else from that night - the next thing I remember was waking up in hospital. I was covered in blood and had injuries to the eye and mouth."
He said he had required seven staples for a head wound.
A defence barrister put it to him that he had pulled or yanked his client's beard five times.
With CCTV footage of the incident played in court, the lawyer argued that O'Hanlon finally grabbed hold with both hands and came in close as if to inflict a head-butt.
"After asking you to stop a number of times, he punched you once because he didn't know where you were going with it," the lawyer said.
'Boisterous and erratic'
The court was told that after the punch, Devlin had put him into the recovery position and alerted door staff.
Devlin told the court he had taken only two drinks before O'Hanlon approached him.
He said they had never spoken before, and claimed O'Hanlon was being "boisterous and erratic".
Describing his beard as being longer and bushier at the time, he said: "All of a sudden Mr O'Hanlon approached me and went straight for my facial hair.
"He forcibly grabbed my beard and tugged it."
He said it was sore and that he kept asking the Glentoran player to stop and go away.
"The last occasion was totally different, he seemed most aggressive and grabbed with two hands," he said.
'Split-second'
"The way he was approaching and pulling my beard I thought it would be easy for him to head-butt me.
"It all happened in a split-second. As he's standing, tensing, I thought I was going to be assaulted and I instinctively punched him once. He then fell to the floor."
Devlin told the court he believed he had done nothing wrong.
A prosecution lawyer put it to him that he had acted disproportionately and unreasonably, and could instead have simply pushed him away.
After hearing all evidence, the judge convicted Devlin of the charge.
The goalkeeper sat with his head in his hands, as the judge imposed a fine and compensation.
One of the Irish League's most high-profile players, Devlin signed for Manchester United as a 16-year-old and played for its reserve team.
He has also represented Northern Ireland at under-21 level and twice been called into its senior squad.
Since signing for Cliftonville he helped the north Belfast club to last season's Irish League title.