Alleged burglar claims he became trapped inside restaurant fridge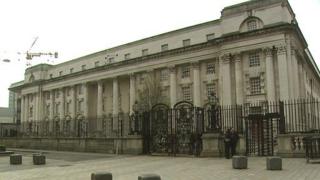 An alleged restaurant burglar claims he became trapped inside a fridge while looking for toilets, the High Court has been told.
Sean McAvoy told police he got lost inside The Bank Bar and Bistro in Newry, County Down.
The 21-year-old faces a charge of burglary with intent to steal from the venue at Trevor Hill on 31 May.
The claim was made during a bail application on behalf of Mr McAvoy. The judge adjourned the application.
Mr McAvoy was arrested at his home after police viewed CCTV footage of the alleged incident.
It was claimed that he said to officers: "Is it because of the Bank? I was locked in the fridge."
The court heard on Wednesday from a prosecution lawyer that the door on an industrial fridge had been extensively damaged and food thrown all over the kitchen floor.
A mobile phone found inside it by the bar manager went to the accused's Facebook profile when switched on, the court was also told.
Mr McAvoy, from Chequer Hill in the city, claims he got lost while going to the bathroom in the premises, but the prosecution said the toilets were located in another part of the complex.
"He stated that any damage to the fridge was caused when he panicked and couldn't get out," a prosecution lawyer said.
The court also heard a claim that Mr McAvoy was barred from the premises two years previously.
Mr McAvoy claimed he eventually managed to get out and exit through a fire door.
Opposing bail, the prosecution lawyer said the accused had drink and drug problems and may not comply with any release conditions.
However, the judge adjourned the application for a report to be prepared on Mr McAvoy's compliance with separate requirements.