Martin McGuinness meets with chief medical officer about health service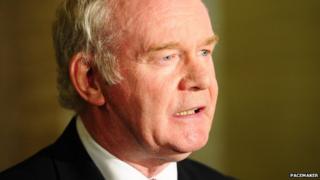 Deputy First Minister Martin McGuinness has held a meeting in Londonderry with the chief medical officer to discuss problems facing the health service.
Last Friday, Mr McGuinness said he would seek an urgent meeting with Dr Michael McBride.
He also said DUP ministers were divided on the management of the health service.
Health Minister Edwin Poots has said he would not implement cuts that would "destroy our health service".
The DUP MLA said his department faced a £140m shortfall and he blamed Sinn Féin for not agreeing a welfare reform deal.
Speaking after the meeting, a spokesperson for the Department of Health said: "The minister has already highlighted the financial challenges facing his department.
"The chief medical officer has no further comment to add to this."
On 1 August, the NI Executive agreed to cut Stormont departments' budgets by £78m, with the exception of health and education.
Finance Minister Simon Hamilton also warned that further cuts, amounting to £87m, would be required if a deal on welfare reform was not agreed.