Cause of County Tyrone schoolgirl's horse riding death 'will never be fully known'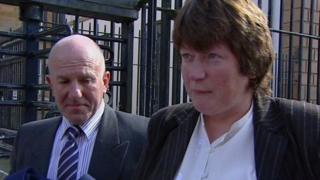 A coroner at the inquest into the death of a County Tyrone schoolgirl who died at a show jumping event has said what happened will never be fully known.
Hannah Jessica Wiley, 13, from Artigarvan, died after her pony fell on her at Eglinton Equestrian Centre, County Londonderry, in August 2012.
The coroner said a horrific combination of circumstances led to her death.
Her parents said that the inquest had not provided an "accurate account" of their daughter's death.
The coroner told the inquest that it appeared that Ms Wiley was riding her horse without any problems towards a fence when a pole became trapped between the pony's legs.
The pole caused the animal to fall on top of her.
He said it was not the function of the inquest to establish liability, but that the horse riding organisation was well-run and the equipment used had been in operation for years.
Speaking outside the courtroom in Londonderry, her parents, Ethna and Edmund Wiley, said their daughter was an "intelligent girl" and "well loved".
"We were hoping to get an accurate account of what happened to our daughter. She deserved that," said Mrs Wiley, who read from a statement.
She added that they also hoped people would "learn from these mistakes, so that no other family has to go through the heartache we've suffered".