Translink bus drivers to vote on strike action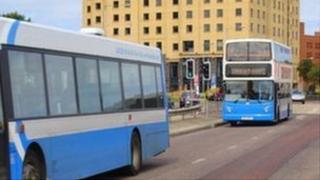 Bus workers are set to vote on whether to take strike action after pay talks with Translink broke down, a public transport union has said.
Unite said members would meet on Wednesday and a decision would be made.
The union said talks had collapsed after Translink withdrew an offer of a pay increase due to "additional cuts to public transport funding" by Stormont.
Translink said pay negotiations with trade unions were ongoing.
Unite said Translink had commenced pay talks in August and offered a 1% pay increase, which they rejected due to it being below the rate of inflation.
However, the union said that both sides continued to negotiate until the last meeting when Translink management withdrew the offer.
Michael Dornan, the Unite chair for Metro bus drivers, said: "Our disappointment with the approach of management to our members' pay has been compounded by the impact of the political impasse at Stormont.
"We recognise the inconvenience that this will cause and ask the travelling public to support us in demanding that politicians ring-fence adequate funding for the public transport system."
Translink said pay negotiations could not be finalised until the company had a "clear picture of all funding streams from government" and they would be seeking further meetings with the unions.