George Galloway: Scotland stance, not Israel, raises heckles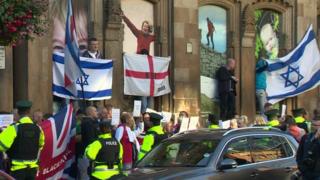 It was George Galloway's stance on Scottish independence rather than his Middle East policy which raised heckles at his Saturday night show in Belfast.
The reason the Ulster Hall event was almost banned was because of unionist complaints about his anti-Israel remarks at a recent event in Yorkshire.
However, the audience in Belfast was overwhelmingly sympathetic to Mr Galloway's views on the Middle East.
It was his opposition to Scottish independence that caused dissent.
But this was only minor dissent.
During a question and answer session with the 1,000-strong audience, one man challenged him on the issue, asking how he could support an independent Ireland but not an independent Scotland? The question was applauded by a small number of people.
When Mr Galloway interrupted the questioner, the man shouted back: "Let me finish. You've had the platform for two hours."
Mr Galloway retorted: "It's my platform."
The MP defended his stance on next month's Scottish referendum, saying he was confident that "the great majority" of people would agree with him and vote against independence on 18 September.
He added: "I don't like partition."
Billed as Saturday Night With George Galloway, with tickets costing £12 each, the Bradford West MP made a 45-minute speech before taking questions from the floor for more than an hour.
Covering a wide-range of topics, he fiercely criticised former prime minister Tony Blair, poked fun at Rangers FC and spoke of his dislike of alcohol, advising the audience to "drink less, live longer".
Outside the Ulster Hall, there were dozens of police officers as about 200 loyalist protesters gathered, some of them carrying Israeli flags.
Some of the crowd shouted and sang: "Nuke, nuke Palestine" and "No surrender to Hamas".
Others carried posters with the slogan: "Galloway not wanted in Ulster".
There was a minor skirmish when a member of the audience walking into the hall was spotted carrying what appeared to be an Israeli flag covered in blood. Security staff took the flag away.
Some of the loyalist crowd tried to break through police lines but were held back.
In the 1,000-strong audience were a number of Sinn Féin members and the party's former director of publicity, Danny Morrison.
Mr Galloway said his party, Respect, would not fight elections in Northern Ireland as it did not want to take any voters away from Sinn Féin.
Asked about the loyalist demonstration outside the event, Mr Galloway said: "It wouldn't be Belfast on a Saturday, if there was no protest".