George Galloway: Protest at Ulster Hall before speaking event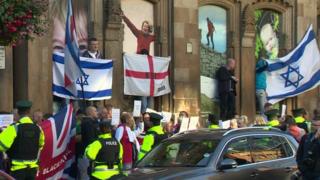 About 200 loyalist protesters gathered outside the Ulster Hall in Belfast, where MP George Galloway took part in a public speaking event.
Some of the protesters were carrying Israeli flags.
The event had attracted controversy after the Respect MP made comments urging people in Bradford to reject all Israeli goods, services, academics and tourists.
The staging of the event was opposed by unionist parties in Belfast.
Some city councillors called for a review of it but Belfast City Council said the event would go ahead.
Mr Galloway had said he would not withdraw from the event, billed as Saturday Night with George Galloway.