Gerry Anderson: Funeral of broadcaster is held in Derry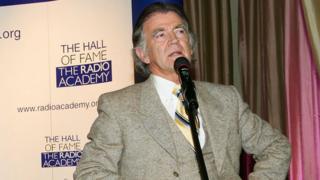 Up to 1,000 mourners have gathered in Derry for the funeral of veteran broadcaster Gerry Anderson.
He died earlier this week aged 69.
Requiem Mass is taking place in St Eugene's Cathedral, in his home town at 11:00 BST on Sunday.
The Derry native started his 30-year career in the city, working as a radio presenter at Radio Foyle in 1984, before going on to become a household name in Northern Ireland.
He died on Thursday after a long illness.
Among those who attended the funeral were television presenters Eamonn Holmes and Gerry Kelly, Ulster Unionist Party leader Mike Nesbitt and his wife, Lynda Bryans. Musician and songwriter Phil Coulter was also present.
The church was packed with family and friends.
Prominent figures from Northern Ireland and the world of broadcasting have paid tribute to Mr Anderson.
BBC Director General Tony Hall said he was a "distinctive and iconic voice".
Speaking on Radio Ulster's Sunday Sequence, Bishop of Derry Donal McKeown said Gerry Anderson was "somebody who tried to make sense of the madness of life and the beauty of life".
"He had great experience and great wisdom," he said. "He was always pushing out the boundaries."
Gerry Anderson was named as the Best Regional Presenter at the Royal Television Society journalism awards in 2004.
The following year, he received the ultimate accolade for his services to broadcasting when he was inducted into the UK Radio Hall of Fame.
His daily programme on BBC Radio Ulster attracted dedicated fans, but almost two years ago, he stopped broadcasting because of illness.