Man beaten by masked gang in suspected sectarian attack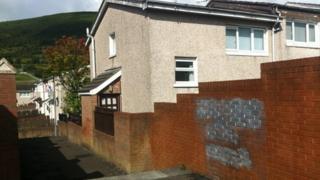 A 22-year-old man has been beaten with iron bars and a hatchet by a gang of men in a suspected sectarian assault on the outskirts of west Belfast.
A gang of masked men broke into a house at Ballygomartin Drive on Friday shortly before 21:40 BST and attacked him with iron bars and a hatchet.
They beat the man, who is a Catholic, in front of his girlfriend and their eleven-week-old baby.
Sectarian graffiti was daubed on the house claiming to be from the UDA.
The couple had been living in the home for less than five weeks.
A red car parked outside was also damaged in the attack.
Police have appealed for information.