Man, 25, injured in north Belfast stabbing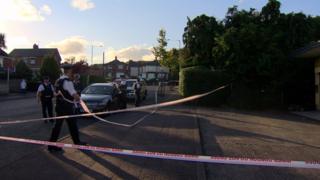 A 25-year-old man has been taken to hospital after a suspected stabbing in north Belfast.
It happened at about 17:15 BST outside a number of shops on the Oldpark Road.
He was attacked in the stomach, but his injuries are not believed to be life-threatening.
Police have cordoned off the scene.
DUP councillor Brian Kingston condemned the attack.
He said: "There is a tension within the community when these incidents happen, and that is the last thing we want to see happening in Belfast.
"We appeal for an end to these attacks. They are harmful to the community in Belfast and it's the last thing we need."
He added that it was "too early" to say whether the incident was related to previous attacks in the area, but said anyone "carrying out attacks (like that) cannot claim to be acting in the interests of the community".