Pair arrested in Ballymena in counterfeit car products inquiry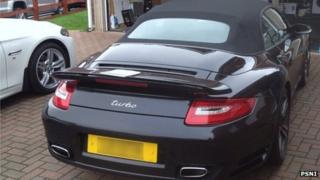 Two people have been charged as part of an investigation into counterfeit car products, trademark offences and money laundering.
A man, aged 47, and a woman, aged 44, were arrested on Thursday in Ballymena, County Antrim.
The pair are due to appear at Ballymena Magistrates' Court in September.
Police said the investigation was launched after a complaint by the car manufacturer BMW.
A number of searches were carried out in Ballymena, Belfast and Portstewart, during which police seized a Porsche car in Ballymena.
Det Insp Todd Clements said police had secured restraining orders on seized assets worth more than £1m.