Employee admits defrauding Department for Social Development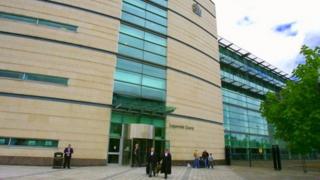 A woman has pleaded guilty to defrauding her Department for Social Development employers out of £10,000.
Christine Quinn, 34, from Ramoan Gardens, Belfast, appeared at Belfast Crown Court on Friday.
She pleaded guilty to two counts of fraud by abuse of her position on 7 October 2010 and 22 March 2011, by making false benefit payments to her mother Margaret Leckey totalling £10,000.
She denied two other counts.
She pleaded not guilty to copying a false instrument with intent to make the payments to her mother between 26 August 2010 and 8 October 2010.
A prosecution lawyer said that as a result of her guilty pleas to fraud by abuse of position, the Crown were asking for the two further offences of copying a false instrument to be "left on the books and not to be proceeded without leave of the Crown Court or the Court of Appeal''.
The lawyer told the judge that Mrs Quinn worked for the Department of Social Development (DSD) at the time the offences were committed.
The court heard that due to her position within DSD she "submitted false applications and false claims on behalf of her mother and her husband''.
The lawyer added that a total of £10,000 had paid into her mother's bank account but were subsequently transferred into a joint account Mrs Quinn held with her husband.
"She said at interview that the money was to help out her mother but all the money was transferred into her bank account,'' the prosecution lawyer said.
"She also submitted false claims on behalf of her husband, but this had been stopped in time and no money was paid out. This had the potential loss of £25,000.''
A defence barrister said that as yet none of the £10,000 had been repaid to her employers.
The judge told the court: "This is a breach of trust by an employee. Stealing for a family member does not make it any better, even for a family member who is in need of help.
"I will expect money to be paid. They better make a proper effort to get this money back. I will take any restitution in the defendant's favour before I pass sentence.''
The judge adjourned sentencing until 3 October to allow for the preparation of a pre-sentence report.
The judge warned Mrs Quinn not to "commit any criminal offences when you are trying to get this money back".