Falls Road, Belfast, reopened after 'suspicious vehicle' alert ends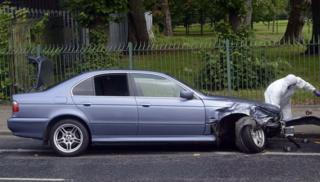 A security alert involving a suspicious vehicle in west Belfast has ended, police have said.
Part of the Falls Road has reopened after a stolen car was abandoned following a crash on Thursday.
The occupants of the car ran away after it collided with another car at about 17:30 BST.
A woman and a child from the other car were taken to hospital after the crash for treatment to injuries, which are not believed to be life-threatening.
Police have reopened the road between Whiterock Road and Glen Road after "nothing untoward" was found.
Police said the car had been stolen in the Whiterock Road area earlier on Thursday.
West Belfast area commander Ch Insp Anthony McNally said: "The vehicle was examined by Army technical officers and has been recovered for further examination.
"This examination and recovery was done so in a way to ensure both the safety of the public and police officers.
Community safety
"In this instance, there was no requirement to evacuate anyone from their homes or businesses.
"However, we fully understand that it's very difficult and frustrating when you are trying to go about your daily business or commute to work and can assure you that this was necessary to ensure the safety of the local community and to protect everyone.
"Public safety is of paramount importance and the blame must lie with those behind the security alert."