Sam Foster: Funeral for ex-environment minister held in Enniskillen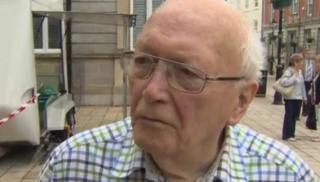 The funeral of former Ulster Unionist minister Sam Foster has taken place.
A service was held at St Macartin's Cathedral in Enniskillen, County Fermanagh, on Friday.
Mr Foster, who was 82, represented Fermanagh and South Tyrone in the Northern Ireland Assembly.
A former chairman of Fermanagh District Council, Mr Foster also served as a major in the Ulster Defence Regiment. He served as environment minister at Stormont between 1999 and 2002.
He was part of the executive under former first minister David Trimble, who attended the funeral along with the Ulster Unionist leader Mike Nesbitt.
Mr Foster was related to the husband of Enterprise Minister Arlene Foster, who also attended the service. Sinn Féin MP Michelle Gildernew was also present.
In 2002, Mr Foster received a CBE for political and public service.
A retired social worker, Mr Foster was a leading member of the Orange Order in Fermanagh.