Ebola outbreak: Suspected case in County Donegal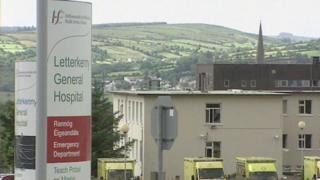 Tests for the Ebola virus are being carried out on the body of a man in a County Donegal hospital, the Irish Health Service Executive (HSE) has said.
It is understood the man's body was brought to Letterkenny General Hospital on Thursday. He had suffered what are described as Ebola-like symptoms.
He had recently returned from Sierra Leone.
The HSE said that test results are expected on Friday.
The man, originally from the Mountcharles area, near Donegal town, is said to have been in his 40s.
It is believed he had been living in Dublin and had visited Sierra Leone a number of weeks ago for work.
In a statement, the HSE said: "The public health department was made aware earlier (on Thursday) of the remains of an individual, discovered early this morning, who had recently travelled to one of the areas in Africa affected by the current Ebola virus disease outbreak.
"The appropriate national guidelines, in line with international best practice, are being followed by the public health team dealing with the situation."
The HSE said the body had been isolated to minimise the potential spread of any possible virus.
Low risk
"Blood samples have been sent for laboratory testing to confirm whether or not this individual had contracted Ebola virus disease," the statement added.
"Until a diagnosis is confirmed, and as a precautionary measure, the individual's remains will stay in the mortuary pending the laboratory results which are expected late (on Friday)."
The post-mortem room at the hospital will remain sealed-off for up to 18 hours.
Dr Darina O'Flanagan, head of the HSE health protection surveillance centre, said: "In general, the risk of contracting Ebola virus disease is extremely low and would involve very close personal contact with the infected individual or their body fluids for there to be any risk at all.
"We await the outcome of the laboratory tests before we will know whether or not this individual had contracted Ebola virus disease. The appropriate public health guidelines are being followed at every stage in this process as a precaution."
The mayor of Letterkenny, councillor Michael McBride, said his thoughts were with the man's family.
He said: "Our condolences go out to the family of the deceased. We hope the results will come back negative regarding the Ebola virus."