Nelson McCausland: DSD must make '£29m in savings'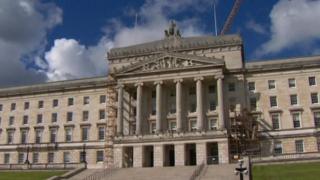 The social development minister has said his department will have to make savings of £29m in the remainder of this year.
Nelson McCausland said it could lead to a "significant increase" in Housing Executive rents.
He said it could also mean job losses in his department and longer waiting times for housing maintenance repairs.
Mr McCausland blamed Sinn Féin's failure to agree a deal on welfare reform for the financial pressures.
Northern Ireland is being penalised by the Treasury for not endorsing welfare reforms passed by Westminster in February 2013.
Sinn Féin has led the opposition to the reforms.
Speaking to Radio Ulster's Evening Extra programme, the minister said he could not "magic money out of thin air" after budget cuts in the June monitoring round.
"It's a department that deals with vulnerable communities, disadvantaged communities, with social housing. We're dealing also with neighbourhood renewal, the voluntary and community sector," he said.
"Within those areas we'll do the relevant calculations just to see if there are savings that can be made in one area or another."
In a speech on Thursday, Mr McCausland repeated the claim that the Sinn Féin Deputy First Minister Martin McGuinness had agreed a deal on welfare reform, but was unable to sell it to his party.
Sinn Féin has positioned itself as the main anti-austerity voice in the Republic of Ireland.
Alex Maskey, the party's South Belfast MLA, and chair of the social development committee at Stormont, said unionist parties should join them in challenging welfare reform.
"I would despair for people like Nelson, expending the amount of energy they are doing trying to attack Sinn Féin, when in actual fact they should be challenging the British government who are forcing these cuts on everyone here," he said.
"The DUP should stop peddling the lie that any cut which is inflicted on any department in the June budget was the result of welfare cuts.
"We blocked the welfare cuts being imposed on anybody. And if the DUP had had their way in the June monitoring budget there would have been another £87m taken out of the department spend."
Stormont is also facing other budget pressures separate from the welfare reform issue.
The Department for Social Development (DSD) agreed to cuts of £13.5m in the June monitoring round, the periodic reallocation of Stormont funds.
A spokesman said the additional £15.5m of cuts is anticipated in the October monitoring round.
He added that October monitoring has already been commissioned and departments will be expected to make returns by 2 October, where further "inevitable cuts" will have to be agreed.