Two questioned over shooting in north Belfast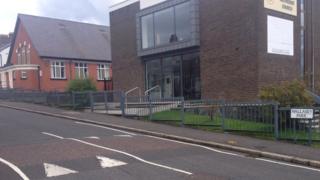 Two men have been arrested by police investigating the shooting of a 44-year-old man in north Belfast.
It happened at Wallasey Park at about 22:10 BST on Wednesday.
Police said the men, aged 46 and 47, were being questioned on suspicion of attempted murder. A number of searches have also been carried out in north Belfast and north Down.
A local police commander said there was no justification for bringing violence of any sort onto the streets.
"This type of incident adds nothing to communities; instead it can lead to fear, anxiety and tension," said Ch Supt Nigel Grimshaw.
"This cannot be allowed to happen, and the police will do everything in our power to keep people safe, deal with this criminality, and ensure that people can go about their normal business in peace.
"Detectives will continue to actively pursue this investigation to ensure that all those involved in carrying out this attack, are arrested and brought before the courts."
Police said it was believed the man was shot when he got out of a car after something was thrown at it. His injuries are not believed to be life-threatening.
Sinn Féin assembly member Carál Ní Chuilín said the shooting was a worrying escalation of tensions in loyalist areas of north Belfast.