Gerry Anderson: Tributes paid to broadcaster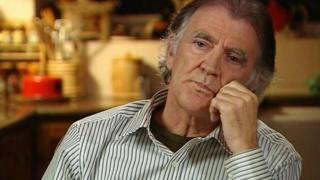 Politicians and prominent figures in Northern Ireland have been paying tribute to the broadcaster Gerry Anderson, who has died aged 69 following a long illness.
In a career spanning 30 years, he hosted radio and TV programmes for BBC Northern Ireland, BBC Radio Ulster, BBC Radio Foyle and BBC Radio 4.
---
Fergus Keeling, Head of Radio, BBC Northern Ireland
"Gerry was possibly the cleverest man I've ever known. He was also naturally funny and he had an unmatched style of broadcasting in radio in Northern Ireland.
"We spent an afternoon together just two days before he got the news about his recent illness and he made me laugh so much I didn't want our conversation to end.
"He was a much-loved member of the BBC Radio Ulster and BBC Radio Foyle family and we shall miss him so, so much.
"His charm, his wicked wit and his searing insights on life endeared him to us and of course his thousands of listeners. I cherish the lovely hug he gave me the last time we met."
---
Larry Deeney, Editor, BBC Radio Foyle
"When I arrived at BBC Radio Foyle as a young journalist, I was in awe of Gerry Anderson.
"Growing up in Derry, everyone knew his name, his face and most of all his voice.
"I quickly realised that in Foyle, Gerry was just part of the team: approachable, intelligent and most of all very, very funny.
"I don't think anyone had ever heard anything like those programmes that he broadcast with Sean Coyle over the years and I know we never will again.
"Everyone here at Foyle will miss him more than I can say. I would like to send our deepest condolences to Gerry's family."
---
John Hume, former SDLP leader
"Gerry was a unique character, and Derry and the BBC are a poorer place for his passing," said Mr Hume.
"I had such high regard for Gerry who put a smile on the faces of so many people.
"Pat and I extend our deepest sympathy to his wife Christine and the family, and to all of Gerry's colleagues."
---
Joint statement by Peter Robinson and Martin McGuinness, NI first and deputy first ministers
"We are deeply saddened to hear of the passing of Gerry Anderson.
"Gerry was a hugely talented broadcaster with an irrepressible personality who will be greatly missed. In many ways his unpredictable style and wit on TV and radio was ahead of its time and he undoubtedly had an influence on the younger generation of broadcasters.
"Gerry's long and varied career is a tribute to the loyalty he inspired. Throughout his broadcasting career his warmth, energy and sheer enthusiasm attracted legions of devoted fans.
"The world of broadcasting will be all the quieter without Gerry in it. Our thoughts and prayers are with his wife Christine and family at this difficult time."
---
Mike Nesbitt, Ulster Unionist Party leader
"Gerry was an unchained and irrepressible spirit who liberated BBC Radio Ulster at a time when local broadcasting was dominated by rules.
"Gerry couldn't spell 'rules' and he helped free up all of us who were presenters on Radio Ulster in the 1980s and beyond.
"He was also a very generous, encouraging man who had no fear of rival talent.
"I first worked with him at an Ulster Grand Prix when I was a sports presenter and he arrived as a roving reporter in white shoes on a dark, wet Saturday when the paddock was a sea of mud. He simply did not see what the problem was.
"My condolences to his wife Christine, and broader family. The BBC is a poorer place today."
---
Mark Durkan, SDLP Foyle MP
"Gerry Anderson earned a special standing with his wit, warmth, his way with words and his off-the-cuff, on-the-button observations.
"He was appreciated and respected in a way he never cultivated. He had a natural style but never styled himself for the status or the eminence he achieved, or the special connection that everyone felt with him.
"Derry has lost a very special son, an unceremonious ambassador, and broadcasting has lost a limited edition of one."
---
Carál Ní Chuilín, Stormont culture minister
"Gerry Anderson was a broadcasting pioneer who enriched our cultural landscape.
"He had an inordinate wit which brought joy to so many. He could be scathing and endearing, and was often both at the same time. But his humour was based in a real affection for his home town of Derry and the north, and listeners loved him for it.
"We are poorer for his passing, but he leaves a legacy which touched people across Ireland and further afield.
"My thoughts are with his wife Christine, his family, friends and colleagues at both Radio Foyle and across the wider BBC."
---
Kieran McCarthy, Alliance Party assembly member
"Gerry Anderson really was a once in a lifetime kind of broadcaster and will be much missed by all in Northern Ireland.
"Gerry's fantastic sense of humour and wit enabled him to keep Northern Ireland laughing, even during the darkest days of the Troubles.
"This really is a sad day and I extend my thoughts and sympathies to all his family and friends."