Gerry Anderson's listeners share their memories of broadcaster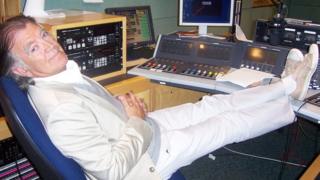 Gerry Anderson's unique style of broadcasting made him a household name in Northern Ireland.
He won acclaim and audience affection for his daily show on BBC Radio Ulster and for TV programmes like The Show and Anderson on the Box.
News of his passing has led many broadcasters and listeners of his show to share their memories of him on the airwaves and on social media.
Phil Coulter, songwriter
"It's the passing of a friend first and foremost that I mourn, but in terms of this province in terms of radio. I think Gerry was a giant, a one-off.
"I think he redefined radio in the north of Ireland. I'm old enough to remember when the BBC was populated with what was known as BBC accents and everybody spoke very politely and everybody played by a certain set of rules.
"Along came Anderson who spoke in a Derry accent and played by no rules at all. He was full of devilment and full of mischief and I think that was what endeared him to people.
"You just never knew what to expect with Gerry, and I think that's what we loved about him in our part of the world . He did break the mould. In my early days the BBC was very straight-laced, there was a very, very strict regime, a very strict rule book for BBC presenters.
"Anderson just tore that rule book up."
Geordie Tuft, regular caller to Gerry's show
"It's bad news.
"Now, me and him, we travelled all over, to the Europa hotel and down the Foyle on a boat trip, away on bus trips. I was his countryside correspondent.
"I have a world of memories."
Sir Terry Wogan
"He was a terrific broadcaster.
"It was great fun to work with him because he could pick up on anything.
"He was quick-witted, you could ad-lib with him, you could throw the ball in the air and he'd catch it."
Gloria Hunniford, broadcaster
"We sort of in a way all grew up together as broadcasters.
"We loved him dearly.
"He was fundamentally a great talker, he was one of those gems.
"You were always glad to see Gerry, he always made you smile or laugh, he always had a different take on everything. So he was a joy as a man and a marvel as a broadcaster. He is a very, very sad loss."
Eamonn Holmes, on Twitter
"Bye bye Gerry Anderson Stroke City's favourite son - @bbcradioulster will seem a little bit quieter without your mischievous ways. #RIP"
Pete Snodden, CoolFM DJ
"RIP Gerry Anderson. A true talented gent who I was fortunate enough to meet and get to know. So supportive. My thoughts are with his family."
Frank Mitchell, UTV
"So sad to hear about the death of Gerry Anderson. A superb broadcaster and a lovely person to meet. May he rest in peace."
Dr Francis Teeney
"In the aftermath of the Omagh bombing he was the first live show to go on the radio whenever it returned to the normal schedule and I thought how he would handle it because it was a comedy show.
"And for that whole week in the aftermath of the Omagh bombing, he counselled the whole country.
"He started that whole thing about people ringing in and ringing in.
"A remarkable man, extremely funny. We'll never see the likes of him again."
Fiona from Omagh
"I think Gerry and Sean, the two of them, are the people that got me listening to radio, got me hooked on radio, I'm laughing and crying this morning.
"I feel as though I've lost a friend and obviously he wasn't somebody I actually personally knew, but I felt as though I did.
"He was just such a funny man and such a leveller.
"He just said to all of us in Northern Ireland 'will you for goodness sake get your act together and just get on with each other - you're all people' and it was through humour that he gave that message across.
"He was authentic, he was the real deal and he called a spade a spade."
Stephen Clements, Citybeat
"Genuinely gutted. A gentleman and gave me time and advice when many others (less talented) wouldn't. NI is a little emptier today
"Gerry Anderson gave me advice a few years ago, at the end of which he said, 'never tell anyone I advised you, there's guilt by association'."
Amanda and Kieran Lavery
"We would like to offer our condolences to Gerry's family and to all the staff of the BBC.
"We had so much craic listening to his show. He lived life to the full.
"I've never shed a tear over someone I didn't know personally, but I did this morning. I can still hear him doing The Dungiven car sales man.
"May he rest in peace. Deepest sympathies."
Alison from Belfast
"He brought belly laughter even in the darkest days. Gerry and Sean genius double act, I'll miss him. Gerry has left the building."
Iain McDowell
"I was always fascinated listening to Gerry Anderson, but what amazed me most was that he never ran out of stories to tell."
Stephen from Omagh
"God bless Gerry. Oh, how I'll miss him.
"I've lost track of the times I've had to pull my van over for laughing. Him and Sean were just priceless together.
"I've shed some tears this morning."
Anonymous
"God rest Gerry. I'm a 49-year-old lorry driver and I can safely say I've a lump in my throat hearing this sad news. RIP Gerry."