'Five failures' led to baby's death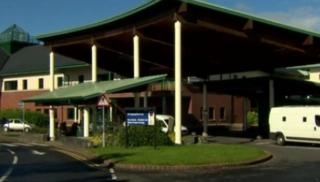 There were five failings in the care given to a mother in labour which led to her baby's death, a senior coroner has said.
Tracy Hook's baby, Alexis, was born by emergency Caesarean section on 4 July 2012 at the Causeway Hospital, Coleraine.
However, within minutes she developed breathing problems and died.
John Leckey ruled that a failure by midwives to identify the onset of labour contributed to the baby's death.
Baby Alexis died as a result of asphyxia brought about when she inhaled meconium.
If babies become distressed in the womb, they sometimes open their bowels, allowing faecal matter (meconium) to float in the amniotic fluid.
On Tuesday, the inquest in Belfast heard from a senior midwife who conceded that Mrs Hook received "sub-standard care" in her labour leading up to the birth of her daughter Alexis.
'Failure'
On Wednesday, the senior coroner ruled that:
• there was a failure by midwives to identify the onset of labour and to give appropriate care.
• a lack of continuity of midwife care... the principal reason for this was the insufficient number of midwives on duty to cope with the high work load.
• misinterpretation of foetal heartbeat traces.
• a failure to escalate concerns to a consultant obstetrician.
• an absence of clear, unambiguous guidance as to the frequency of observations of mother and baby in the onset of labour.
The inquest was told that baby Alexis was showing signs of distress in her mother's womb almost 12 hours before she was born 01:42 BST.
Expert witness Dr Paul Weir said a trace on Alexis' heartbeat at 14:00 BST showed four decelerations, indicating that "the infant was showing evidence of a precarious balance of its oxygen requirement" and that as such, Mrs Hook should have been monitored more closely, even just to check if it was "an isolated phenomenon".
Mr Leckey said that if Alexis had been delivered at 01:00 BST and not 01:42 BST, according to the evidence of Dr Paul Weir and "on the balance of probabilities, resuscitation leading to survival should have been possible".
On Tuesday, obstetrician Dr Tughral Rahman accepted that he should have spotted there was a danger to the baby more than an hour before a decision was made to perform an emergency Caesarean section.
'Tragedy'
Speaking to Alexis' parents Tracy and Allistair, Coroner Leckey expressed his "genuine and very deep sympathy".
"This was your first baby and all the signs were good that you Mrs Hook would be delivered of a healthy baby, it really is a tragedy that that did not happen," he said.
Outside the court, Mr Hook said the past two years since his daughter's death had been hard and that it was only now that the inquest was over that the couple could "finish the grieving process".
"It's been very, very hard but to find out that the care that was given wasn't necessarily what it should have been makes it harder.
"We have got good family support and me and Tracy are strong. It's been hard but we have come through it together," said Mr Hook.
Following the inquest, the Causeway Trust issued a statement accepting the findings and "that they failed to care for Mrs Hook and her baby to the necessary standard".
"When this serious situation occurred the Trust undertook a full investigation," it continued.
"Shortcomings and failings were identified and action was taken immediately to strengthen procedures. Learning from this case has been shared with maternity units in other Trust's in Northern Ireland."