Jehovah's Witnesses use cúpla focal to attract interest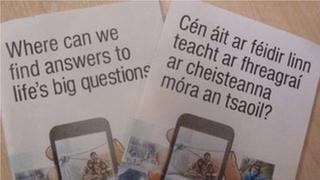 The Jehovah's Witnesses have become the latest organisation to reach out to Irish speakers.
Householders in Belfast have been surprised to answer a knock on the door and be offered religious tracts in Gaeilge and English.
Since earlier this month, large teams of Witnesses have been distributing the documents throughout Belfast.
The move is part of a month-long global campaign to advertise the new tract and their website.
The Irish language colour brochure asks: "Cén áit ar féidir linn teacht ar fhreagraí ar cheisteanna móra an tsaoil?" (Where can we find answers to life's big questions?).
Jehovah's Witnesses spokesman Mark O'Malley said they now planned to print the tract in Welsh and Scots Gaelic.
'Impressed'
Mr O'Malley, who is originally from Galway, said he had relatives in Connemara who were most comfortable speaking in Irish.
"We try to reach people with the language of their heart," Mr O'Malley said.
"We have been contacted by individuals who were impressed and provided positive feedback."
The organisation, which has almost eight million members in 239 lands, prints its literature in 681 languages.
Mr O'Malley said the organisation also provided audio versions of its literature for languages which did not have a written script.
"For example, Sylheti is spoken by more than 10 million people in Bangladesh and India and is one of the largest immigrant languages in London," he said.
"However, Sylheti is not a written language, we have had to adapt to provide a written language that they can understand."
The Jehovah's Witnesses is the latest of several organisations to cater for Irish speakers in Northern Ireland.
'Success'
Last year the new political party, the pro-union NI21, led by Basil McCrea, began sending tweets in Irish ahead of local council and European elections.
In its initial foray into the language, it tweeted: "An mbeidh rath ar pháirtí úr Mhic Rath?" which translates as: "Will there be success for McCrea's new party?"
Many Catholic parishes celebrate Mass in Irish on St Patrick's Day and there are weekly services held in the language in most cities.
The Church of Ireland has had a centuries-long association with the language. The first publication of Christian scripture in Gaeilge was undertaken by Bishop of Ossory Nicholas Walsh who worked on the project until his death in 1585.
The work was eventually completed and printed in 1602. The Church of Ireland still holds regular Irish language services in Belfast.
In Belfast, Irish language classes in the Skainos centre on the Newtownards Road have been attracting an increasing number of learners from the city's traditionally unionist east end.
Jehovah's Witnesses' conscientious objection to military service has brought them into conflict with some governments while their refusal to accept blood transfusions has created controversy at times.
Members hold meetings twice weekly. They do not observe Christmas or Easter or customs considered to be incompatible with Christianity, but commemorate the death of Jesus each year.