NCA would help police tackle human trafficking says David Ford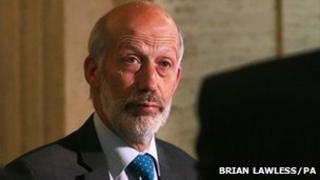 The Justice Minister has said allowing the National Crime Agency (NCA) to operate in Northern Ireland would help police tackle human trafficking.
His remarks follow arrests by police in Northern Ireland investigating trafficking and labour exploitation.
Speaking to Radio Ulster's Evening Extra programme, David Ford said the absence of the NCA was an added burden on police which was "unnecessary".
The NCA began operating in the rest of the United Kingdom last year.
Sinn Féin and the SDLP, worried about its accountability, blocked a move to allow it to operate in Northern Ireland.
"I have no doubt the PSNI is doing all it can to fight trafficking, as indeed other aspects of organised crime, where the NCA would take the lead," said Mr Ford.
"But they don't have some of the expertise that is available through the NCA and NCA officers can not be operational on the ground in Northern Ireland.
"We need to see the NCA operational in Northern Ireland to fight issues like human trafficking and other smuggling.
"In particular, child exploitation online where the former agency CEOP (Child Exploitation and Online Protection) has been absorbed into the NCA, but can no longer provide the direct assistance on the ground that it would have formerly provided."
The NCA targets crime gangs across local, national and international borders.
Its head is directly accountable to the home secretary for the agency's actions - not to the chief constable of the PSNI, the Policing Board or the Police Ombudsman.
The justice minister said discussions between the Stormont parties about the National Crime Agency had been ongoing.
"There is a final paper ready to go to all the political parties in the next week or so which will hopefully produce the basis of an agreement which will see the assembly voting to make the NCA fully operational in Northern Ireland, with much improved accountability mechanisms compared to other places."