Mother's care during labour sub-standard, baby inquest told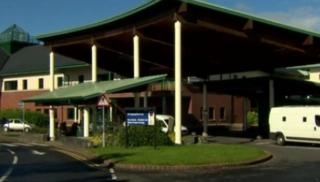 The care given to a woman whose newborn baby died was "completely unacceptable and sub-standard", a coroner has said.
Tracy Hook's baby, Alexis, was born by emergency Caesarean section on 4 July 2012 at the Causeway Hospital, Coleraine.
However, within minutes she developed breathing problems and died.
The inquest heard the unit was short staffed and extremely busy that night, with seven high-risk deliveries and a premature baby being born.
Midwife Karen Armstrong conceded that Mrs Hook received "sub-standard care" in her labour leading up to the birth of her daughter Alexis.
Obstetrician Dr Tughral Rahman accepted that he should have spotted there was a danger to the baby more than an hour before a decision was made to perform an emergency Caesarean section.
Distressed
Giving evidence at the Belfast inquest, Dr Rahman accepted that in hindsight, he should have seen that the foetal heart beat trace from Alexis, taken at 00:06 BST on 4 July 2012, was "pathological" and therefore, "would have set alarm bells ringing".
He further accepted that had that been the case, Alexis could have been born within half an hour rather than at 01:42 BST.
The inquest, being conducted by senior coroner John Leckey, has heard that Alexis died as a result of asphyxia brought about when she inhaled meconium.
A pathologist explained that if babies become distressed in the womb, they sometimes open their bowels, allowing faecal matter (meconium) to float in the amniotic fluid.
Senior midwife Karen Armstrong also gave evidence and said no decision had been made about what stage of labour Mrs Hook was in, until about midnight and agreed with the suggestion by the family's solicitor that an internal examination would have determined that.
There was, however, the inquest heard, no internal examination conducted for about 12 hours and the midwife agreed that was "unacceptable," especially as Mrs Hook was in increasing levels of pain, had used different types of pain relief and was experiencing frequent contractions which were being timed by her husband, Allistair.
She told the inquest that the unit had been very busy on the night of the incident.
On Monday, the inquest heard that in his statement, Mr Hook described how "no one came near her" but that he repeatedly had to ask for kidney dishes as his wife was vomiting.
The coroner said on Tuesday: "Let's not beat about the bush. The care given to Mrs Hook was completely unacceptable and was sub-standard". Mrs Armstrong replied: "On this occasion, yes."
However, the senior coroner told her: "Mr and Mrs Hook are here because their baby died. They're not interested in any other occasion. As a result of this incident, their baby died."
The inquest continues.