Meningitis: Charity warns parents as new school term nears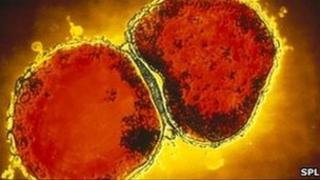 A charity has urged parents to watch for the symptoms of meningitis in children as the school term approaches.
Meningitis Now said children under five were most at risk while teenagers and students in the 15-23 age group were second most at risk.
The charity is offering a free signs and symptoms mobile phone app and information cards.
Symptoms can include fever with cold hands and feet, vomiting, headache, stiff neck and dislike of bright light.
Other signs of meningitis are joint or muscle pain, pale blotchy skin, drowsiness and confusion, and in babies, a dislike of being handled, an unusual cry, rapid breathing and bulging fontanelle (the soft spot on the top of the head).
Adults and children may also have a rash that does not fade under pressure.
Most common symptom
Meningitis is inflammation of the membranes that surround and protect the brain and spinal cord, and is usually caused by bacteria or viruses
Symptoms can appear in any order and some may not appear at all.
Meningitis Now advises people not to wait for a rash, the symptom most commonly associated with meningitis.
Chief Executive Sue Davie said: "This doesn't always appear and can appear late. If concerned, seek urgent medical attention.
"Meningitis can be a difficult disease to spot, particularly at this time of year, as many of its early symptoms can be similar to those of flu.
"We urge everyone to download our app or get a card, familiarise themselves with the symptoms, trust their instincts and get urgent medical help if concerned.
"Doing this could save yours or a loved one's life."