Sinn Fein challenges ministers to spend week on benefits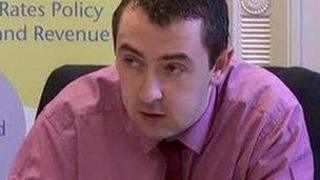 Sinn Féin has challenged DUP, UUP and Alliance ministers who have backed the implementation of welfare reform to spend a week living on benefits.
Daithí McKay said: "Perhaps this experience would open their eyes to the real impact of welfare cuts."
A DUP spokesman said it was a "stunt to deflect from their lack of leadership and the devastating cuts to public spending that come as a consequence".
NI is being penalised by the Treasury for not endorsing welfare reforms.
The measures were passed by Westminster in February 2013.
Cuts
Earlier this month, it was revealed that Stormont departments, excluding health and education, were to have their budgets cut by a total of £78m.
Stormont Finance Minister Simon Hamilton, DUP, also warned that further cuts, amounting to £87m, will be required if a deal on welfare reform is not agreed.
Mr McKay said Sinn Féin was waiting for the outcome of next year's general election.
The assembly member said: "If there is a change of circumstances in Britain, why would we find ourselves £87m down and not try to play this more cleverly as we should?
"We are going to play this agenda over the next number of months to ensure we get the best outcomes for working people and those with disabilities, and we are not going to roll over on the British government's agenda.
"Things are in flux in Britain - the policies being put in place by (Work and Pensions Secretary) Iain Duncan Smith are not working.
"Why would we tie ourselves to those policies and implement £87m in cuts now when things are starting to change and hopefully for the better?"
A DUP spokesman said: "If Sinn Féin are so opposed to welfare reform, perhaps they could explain why Martin McGuinness signed up to the very reforms they now rail against?
"They could also explain why they are happy to reduce public services for the most vulnerable in our society because of their ideological intransigence."